You can now push to Chrome from your Android phone with Pushbullet. It's crazy fast and makes Pushbullet even more useful!
Make sure you've got the updated Chrome extension here!
I know you've wanted this, and we've wanted it too. Pushbullet already made it easy to get things on your phone, and now we've made it just as easy to get things off.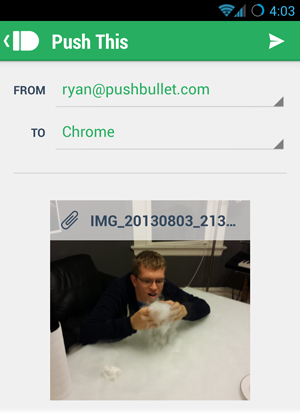 What can I push to Chrome?
You can push anything to Chrome that you're already able to push to Android. This means getting a link or reminder onto your computer is now easy and fast, sending a todo list to your computer now only takes a second, and you can even push pictures and files right from your phone to your Chrome securely from anywhere in the world.
How do I get the things I've pushed to Chrome?
Anything you push to Chrome shows up instantly as a notification, just like on Android. These notifications behave just like the Android notifications: links open a tab, addresses go right to Google Maps, pictures open right away, and files are easy to download. Awesome.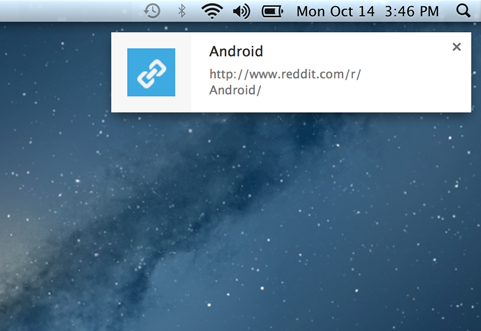 After you've dismissed the notification, you can still access all of your pushes on the updated Pushbullet website. This makes it easy to find anything you've already pushed. You can also manage your pushes right from the website.
Pushing to Chrome is now the fastest and easiest way of getting anything from your phone onto your computer.
No more attachments and emails to yourself, no more waiting for things to sync, now you can push things right where you want them, fast.
This is awesome. What else is new?
We added the ability to push pictures and files in our last update to the Android app. Now we've made it even better—when you create a new push in the app, you can now select what you want to push directly. This makes pushing the things you want even easier.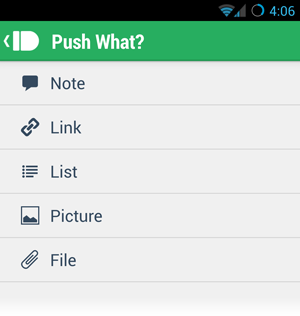 And that's not all. You can now also push lists from the Android app now. This makes sending a shopping list to your phone from your tablet super simple.
Cool, cool, cool! So what's coming next?
We've been hearing how great it would be to be able to push to other people. We completely agree, so we've started working on making pushing to friends & family as easy and as fun as we can make it.
Got some feedback? A feature request? We're all ears! Shoot us a message any time at [email protected] or join our community on reddit!