Pushbullet can now show you all of your phone's notifications right on your computer, the second they show up.
Just how fast are we talking? Very fast. Watch and see:
Now you can know instantly why your phone just buzzed.
This is extremely useful—it enables you to both ignore lame notifications instead of getting interrupted, and makes sure you know right away if something important has just showed up.
This has completely changed the way I react to getting a notification on my phone. Instead of having to grab it out of my pocket and check what has just shown up (only to be disappointed that it's something unimportant), I now just look at the notification on my computer and know right away. It's really cool.
Does my phone need to be on the same WiFi network as my computer or anything like that for this to work?
Nope! Pushbullet's Notification Mirroring will work even if you forgot your phone at work. Once you've turned it on, you'll never have to think about it again—whenever you're logged into your computer, your notifications will just automatically show up there as well.
Amazing! Does this work with any app's notifications?
Yep, this will work with the notifications from almost any app! This of course includes Facebook, Twitter, Whatsapp, Hangouts, Gmail, etc, but isn't limited to just the big players. It'll work even with even the most obscure of apps.
Yep, I want this. How do I turn it on?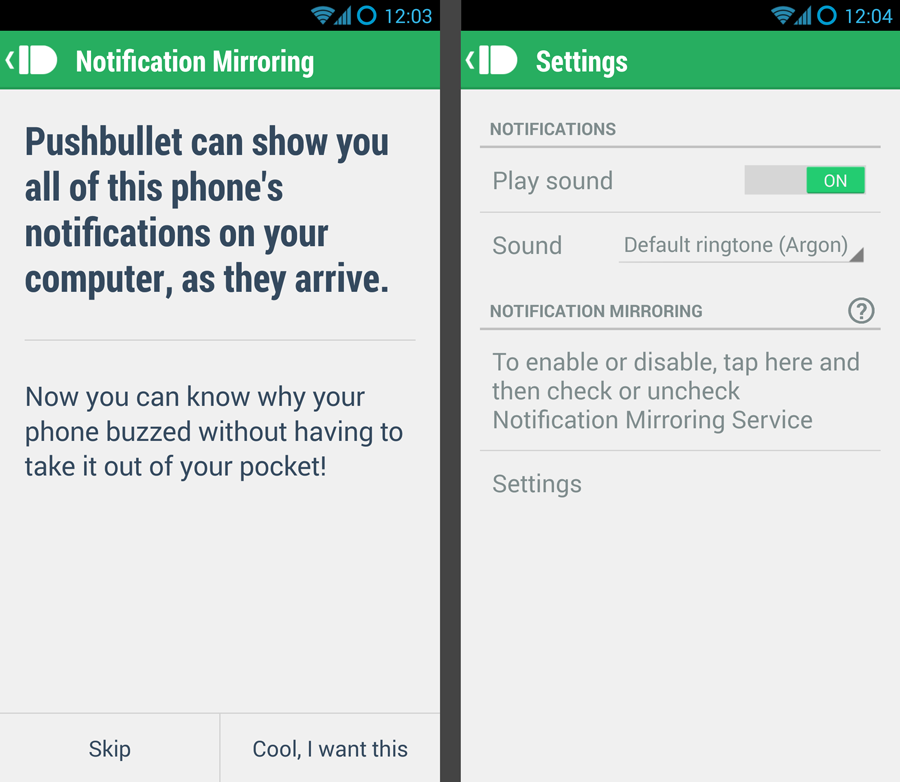 Getting this feature enabled is a piece of cake. You can either turn it on from the prompt we're showing after updating the app, or you can enable and disable it at any time through the new settings screen in the app.
Once you've turned this on, all you need to do is have our Chrome extension installed and signed in on your computer. You'll then start seeing your notifications right away.
We're calling this feature Notification Mirroring and we've got plans to make it a lot more powerful.
So far, Notification Mirroring enables you to see your phone's notifications on your computer, but that's all. As we continue to improve it, being able to dismiss notifications on your phone from your computer is high on our list of things to add.
Another improvement we've got planned is to make the notifications on your computer as smart as those on your phone. A notification about a new email should take you to Gmail when clicked, for example.
Try this out and let us know what you think!
Everyone uses their phone differently so help us improve this feature by telling us know what you like about it and what you'd want improved. We're all ears at [email protected] or join our community on reddit!