We've been developing a Windows desktop app for the past few weeks and are now ready to let anyone who's interested help us beta test it.
Want to try it out? Click here to download the installer!
This is a very early version of the app so it doesn't have all of the features we want yet. In spite of this, it's already really useful.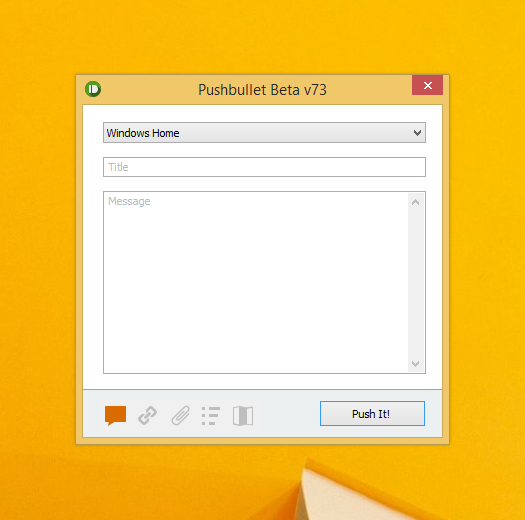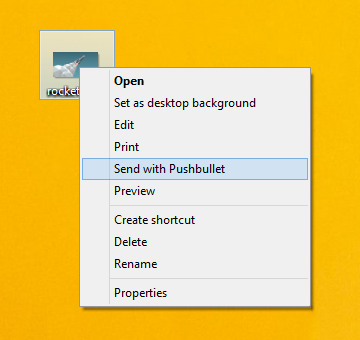 What does it do so far?
Each computer is now its own device and can be pushed to.

You'll see a new device for each computer you install our Windows app on. This makes pushing things between computers and devices easy.

Right-click on any file to easily send it to one of your devices, a different computer, or a friend.

This is my favorite part! A couple things to note: Right now the app can only push one file at a time and the files must be under 25mb. These limits are temporary though, this will be much more powerful soon!

Already supports pushing and receiving everything our website, apps, and browser extensions do.

Everything is fully functional out of the box. Files are downloaded automatically into your Downloads folder, addresses take you right to Google Maps, links open in your browser. You can even customize where the notifications show!
This Windows app does not support Notification Mirroring (yet).
We know how important this is so we're working to add support for Notification Mirroring right now. We'll have it in an update as soon as we've got it up and running.
How do I get updates?
You'll get them automatically. We spent a lot of time making the automatic updates work really well. We know how annoying it is to get bugged about updates so we built it the way we wish it worked everywhere.
Tried out the app and have some feedback or bugs?
Great! The best place to post bugs and suggestions is on the Pushbullet subbreddit. If you're not a reddit user or want to report it directly to us, you can send us an email at [email protected] and we'll check it out right away.