Pushbullet now shows the full image of your notification on your computer. This makes seeing your notifications on your computer even cooler!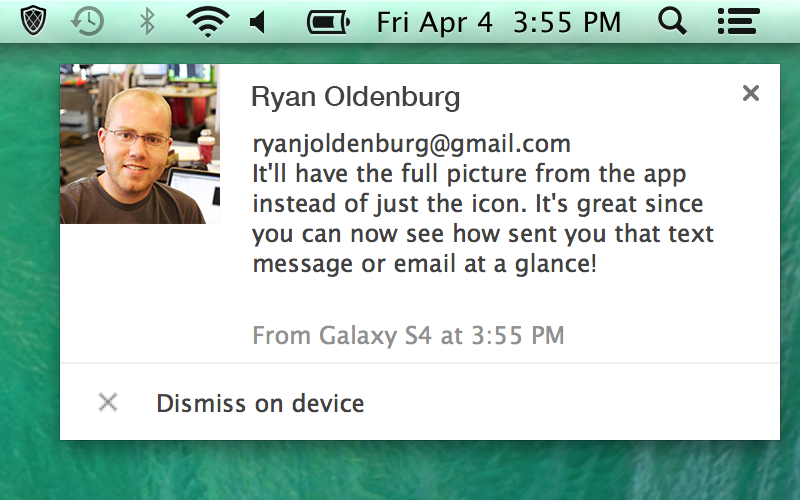 This is such a great improvement because you can now see at a glance who just sent you that email or text message. Or, if you're listening to music, you'll see the album art of the song that's started playing. How great is that!
Best of all? This improvement happens automatically. As soon as you get the update to our Android app, you'll start seeing these richer notifications on your computer!
We've made Notification Mirroring from your phone to computer even more efficient too.
Getting your notifications from your phone onto your computer without impacting your battery life is something we taken very seriously. In this update, we've made some improvements that make this both faster and use less memory. Doesn't get much better than that!
Last week Tasker released version 4.3 which added support for Event plugins. Pushbullet now takes advantage of this new feature!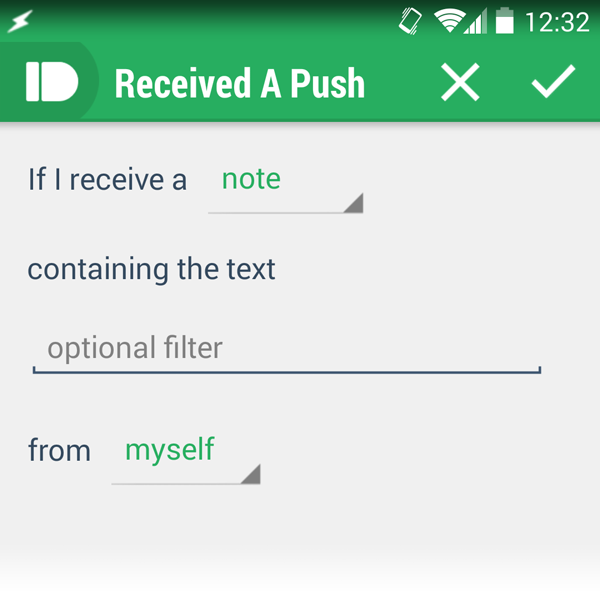 A bit over a month ago we got started with Tasker integration. Our first plugin made it easy to send a notification with Pushbullet through Tasker. Now, with today's update, you can also have Tasker react to the Pushbullet messages you receive!
You can now use Pushbullet to trigger almost anything on your phone via Tasker.
By using Pushbullet as a trigger for Tasker tasks, you can automate your phone in completely new ways. For example, using our API in conjunction with our Event Tasker plugin can lead to some seriously amazing functionality.
An example? Lets say you run a website. You can set up a task in Tasker that does the following: if I receive a push that my website is down, take my phone out of silent and play a siren at max volume!
This might get a bit annoying, but you're certain to not miss that something bad has happened.
The possibilities are endless. We're really excited to hear what people start using this for!
Want to share ideas with other Pushbullet users? Join the Pushbullet subbreddit and see what clever ideas people have come up with.
Oh, and don't forget to tell your friends about how cool this is!
If you notice anything not working quite right, you can always reach us at [email protected].