We've taken Notification Mirroring to the next level—Pushbullet can now automatically sync your notifications between your Android devices and computers at the same time!
Pushbullet has been able to sync your phone's notifications with your computer for a few months now, but that was just the start. Now, Pushbullet can give you a single unified notification stream everywhere and it's pretty incredible.
You can now check and dismiss your notifications from any device, at any time.
It's hard to overstate how convenient this is. Here are some of my favorite things this makes possible:
See who's calling or read that text you just got while using your tablet. (Yes!)
Stop seeing annoying duplicate notifications on your other devices.
No more wondering why devices are buzzing—you can check from anywhere.
Sounds amazing! What does this look like?
See this in action here:
Sold! How do I turn this on?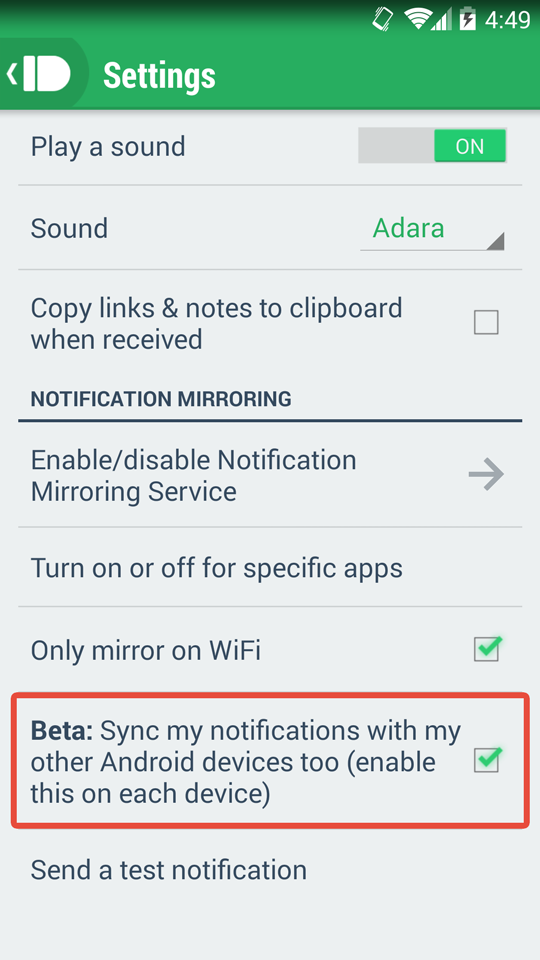 Enabling notification mirroring between your Android (4.3+) devices is easy. Just go to Settings in the Pushbullet app and check the option marked Beta.
You'll need to enable this on each device that you want to participate in the cross-device notification sync.
We've marked this feature Beta because there's bound to be some issues for us to work out. That's just how it goes when you're building at the edge of what's possible!
Notice something not working quite right? Let us know! You can always reach us at hey@pushbullet.com or through the Send Feedback option from the menu in our app.
We're also always checking in on the Pushbullet subreddit. It's a great place for questions and feature requests since other Pushbullet fans can see them and help or add their support.