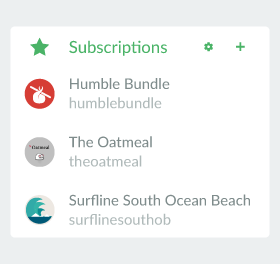 When something I care about happens, I should get alerted to it right away. I should get this alert no matter what device I'm using and I should only see it once no matter how many devices I have.
What I've just described hasn't previously been possible—the closest we've got is email, and email simply isn't good for this.
Channels have come out of this desire. Pushbullet already synchronizes notifications across devices and makes sharing links and more incredibly simple. We have everything that's needed to make this work exactly like it should.
When something is pushed to a channel, all of the subscribers receive it instantly.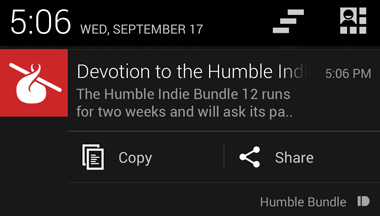 The owner of a channel can push to it like any other device or contact. Channels can also have an RSS feed added as an automatic trigger.
Creating channels of your own is easy. Enabling others to subscribe is just as simple: you can embed a subscribe button on your website, share a link, or even just share your channel's tag.
All of our apps already support channels with our latest updates. A further improvement to channels on iOS is already in Apple's review queue as well.
There are already a bunch of awesome channels online, here are some of our favorites:
You can check out even more channels on pushbullet.com/channels.
You can create your own channels, too. What are good things to make a channel for?
Here's a good filter: is this something you already check for every now and then? If it is, it may make a great channel. Here are a bunch of examples to spark your imagination:
Send out instant updates to club members or teammates (great for reminders or letting everyone know about schedule changes).

Enable people to subscribe to your blog (adding a subscribe button is as easy as copy and paste).

Offer notifications on improvements / updates to your service, app, or game (your fans will thank you).

Power custom server alerts entirely via our API (easier and faster than email or SMS).

Teach a class? A channel makes it easy to instantly share links with all of your students without missing a beat.
What makes a great channel?
A great channel sends notifications about a specific thing. A channel is not like a Twitter account, where tweeting a ton of different things is normal. Instead, great channels are focused and don't go off any more than they have to.
A call for channels.
We want to highlight awesome channels on the Pushbullet Channels page. If you've created a channel you think others would love to be able to subscribe to, get it touch with us at [email protected].
Here are some channels we'd love to see:
Curated (low frequency) feeds for updates on dynamic companies (SpaceX, Tesla come to mind) or interesting parts of big companies (like Google[x]).

Often news sites have a specific type of post that people really love (the APK Download posts on Android Police, or the Dealhacker posts on Lifehacker are examples). Channels for these posts are bound to be hits.

Channels for Android custom ROM updates (subscribing to updates for specific devices would be even better!).

New movies in theaters with a Rotten Tomatoes score higher than 90%.

And anything great you come up with!